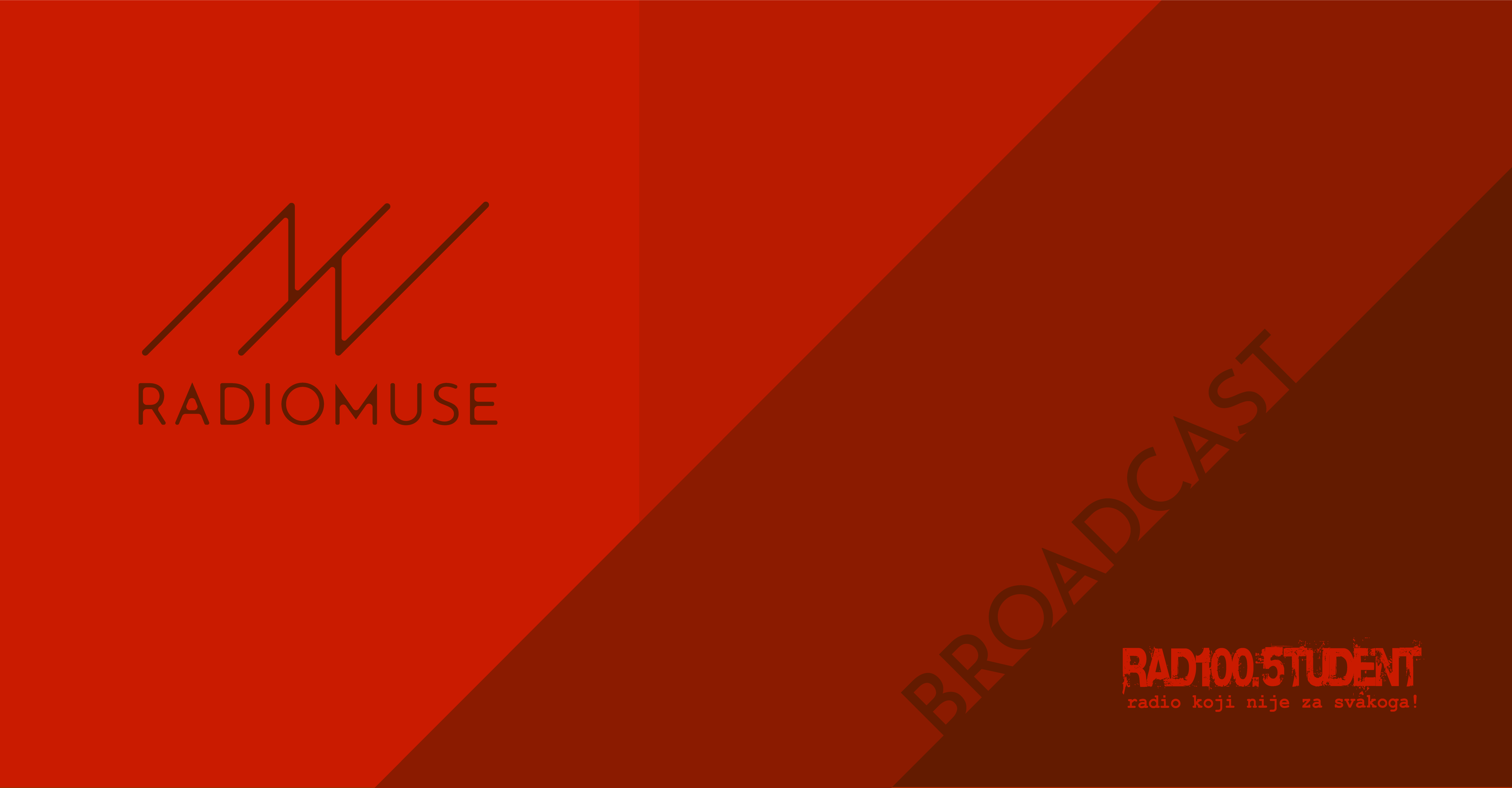 Radio Student brings you a selection of fresh music from the alternative and underground scene. Our guest in this edition was Luka Zadro, a promotor, organizer and manager of the underground heroes Porto Morto and Nemanja. We listened to music from Fauna, Strawberry Pakka, Valentino Bošković, Fantom, Nemanja, Letarg and Luka Tomas.
----------------
The 18th edition of Radio Muse brings you a choice of cool and new artists with a special feature interview with Luka Zadro, an active organizer, promotor and manager of our underground bands. He is currently working with the highly acclaimed Croatian rock band Pips Chips Videoclips and our underground heroes Porto Morto and Nemanja which we hosted in our show. We called him to tell us more about the business side of music activities that is very lacking on the Croatian underground music scene. 
We also included the following artists in this show:
Luka Tomas, a lo fi indie artist that previously played in the pop punk band Kino Klub. When that commercial band disbanded he began recording and writing in a different way, being motivated to express honesty and emotion. Tomas recorded a half acoustic and half electronic album that evolved into something very interesting and worth every listen
Fauna is a duo from Zagreb. Their music is soft yet dark and combines synths with acoustic guitars to form a very intimate atmosphere. They are on the label Više Manje Zauvijek
Letarg is a band from the city of Koprivnica. Koprivnica is special because it is as of late one of our most active underground scenes. It has artists and enthusiasts who are working tirelessly and are very successful. Letarg is an indie rock band that catches new listeners with each new track.
Valentino Bošković is a duo from island of Brač. Their music is dreamy and optimistic and sang in a hard Dalmatian islandish accent of the Croatian language. Unfortunately, as a rule they don't play live yet it is very interesting how many listeners they've gathered without promoting their music. Their philosophy is that their album is free as is the whole universe.
Strawberry Pakka, behind that name hides an artist that previously played in a cool Zagreb based band And The Kid. This is his new project that features a radical shift in sound and production. He uses samples and special sounds to form an unconventional music image.
Fantom is an artist that brings some sounds of the 80's to the future. Their style is laid back and relaxed, while their lyrics bring night time stories into melodies. They are also on the Više Manje Zauvijek label. What is interesting, they've accumulated almost 150 000 views on youtube in 2 months.
FEATURED ARTISTS/PRODUCERS (WITH LABELS) OR FEATURED LABELS: 

FAUNA / Više Manje Zauvijek
https://faunazg.bandcamp.com/
https://www.facebook.com/visemanjezauvijek/
STRAWBERRY PAKKA
https://strawberrypakka.bandcamp.com/releases
VALENTINO BOŠKOVIĆ / Mudri Brk
https://valentinoboskovic.bandcamp.com/
https://www.facebook.com/mudribrk/
FANTOM / Više Manje Zauvijek
https://fantom-mp3.bandcamp.com/
https://www.facebook.com/visemanjezauvijek/
LETARG
https://letargcroatia.bandcamp.com/releases
LUKA TOMAS
https://lukatomas.bandcamp.com/releases
NEMANJA
https://nemanja.bandcamp.com/
PLAYLIST:
Luka Tomas – Nineteen (Street Pop, 2019, self-released)
Fauna – Crni Med (single, 2019, Više Manje Zauvijek)
Nemanja – The High Priestess (Tarot Funk, 2019, self-released)
Letarg – Padobran (single, 2019, self-released)
Valentino Bošković – Bobovišćica (single, 2019, self-released)
Strawberry Pakka – He just wants (time is a blank spot) (Love and starvation, 2019, self-released)
Fantom – Žena (single, 2019, Više Manje Zauvijek)
Radio Student (http://www.radiostudent.hr/), Zagreb, Croatia
Interview by Vigor Vukotić
Read and hosted by Ivan Kolar
Produced by Ivan Vlašić
preview
Luka Zadro, Fauna, Fantom, Strawberry Pakka, Letarg, Nemanja, Valentino Bošković, Luka Tomas