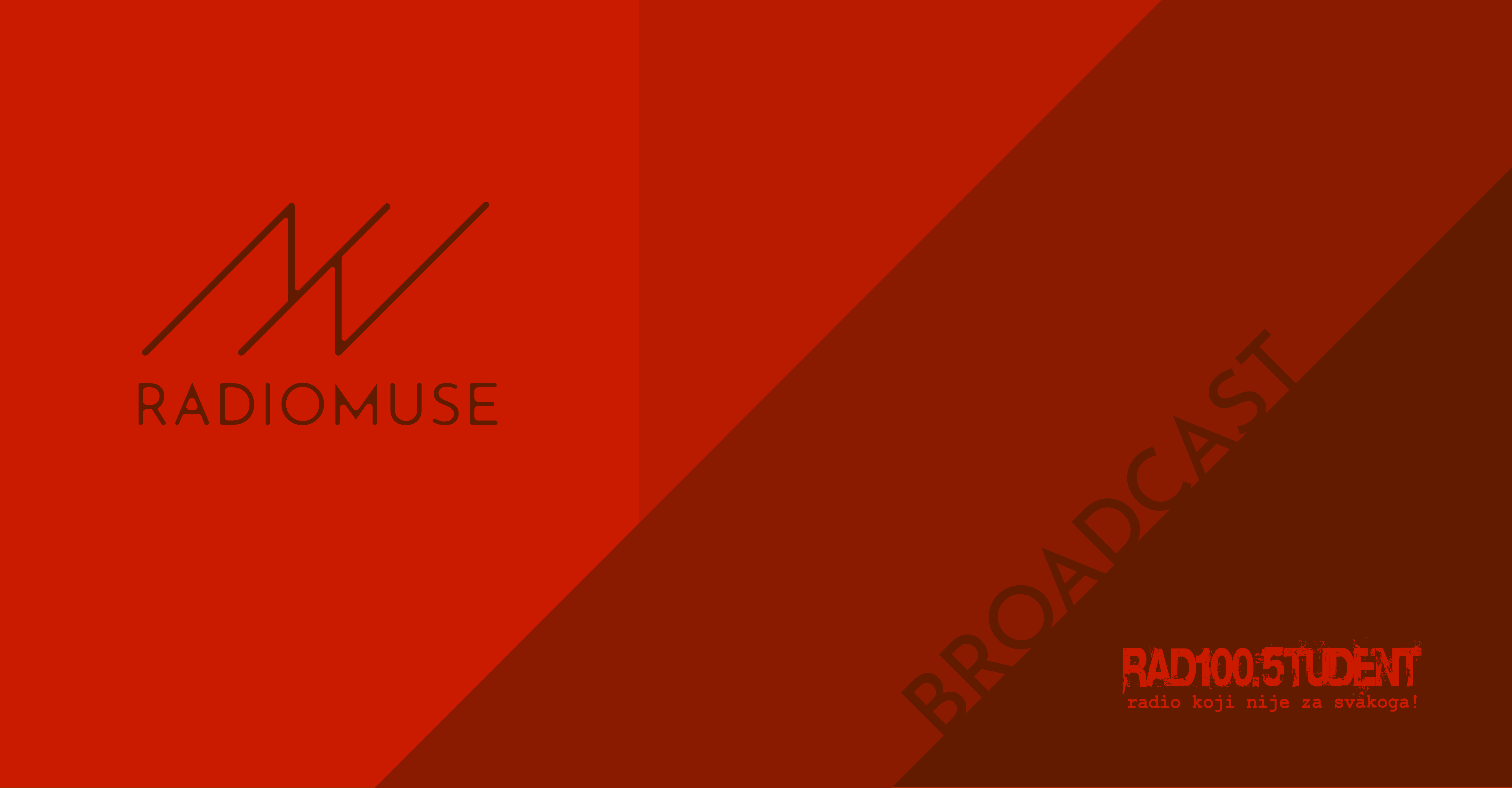 This week, Radio Student Zagreb brings you a small selection of what the Croatian underground scene offers. As a special feature Vigor spoke to Luka Šipetić, the guitarist and songwriter from 4 bands NLV, Pastele, Para Lele and Nemanja. In this show you can also hear noise poppers Harvo Jay, funky Sfumato and electro rock duo Plastic Knives. 
---------------------------
The 14th show of the cooperative program called Radio Muse is prepared by Radio Student Zagreb. In our effort to hand pick independent artist signed and unsigned we bring you a selection of different but very intriguing musical pieces. Our goal for this show but also as an independent radio in general is and always will be to promote and give airplay to artists (be it musical or otherwise) who don't find their place in mainstream media. With that on one side while quality and musical relevance on the other, this week we bring you:
Sfumato, a great instrumental three piece from Zagreb. Their music is as fresh as their groovy jams are. With one album released last year called Walhali they are currently working on another record. They are acclaimed by critics and artists alike.
Harvo Jay, first band from Osijek that we hosted on this show. They mix mostly noise and dream pop with occasional experiments with math rock. Their lyrics are often filled with pseudo political slogans expressed through irony and comedy although it is not clear on the first listen. Their lyrics as much as their music expresses deep resentment and disappointment with the current state of things yet in a childish manner. 
For our special feature we had an interview with Luka Šipetić, the guitarist and songwriter from NLV, Para Lele, Nemanja and the most recent one Pastele. Luka is very talented, hardworking and innovative and that's probably a reason why his records sound the way they do. Since Luka is from Pula, Vigor met up with him and record this interview. Luka's musical career spans over genres and isn't easily boxed into one. Since we played Nemanja in our previous show, in this show we played three of his other bands.
Plastic Knives, an electro rock duo that made a big impact on the scene when they first came out. They create music that marries diverse guitars and seldom complex drum patterns of alternative and progressive rock with rich textures and often aggressive synth leads of electronic music.
FEATURED ARTISTS/PRODUCERS (WITH LABELS) OR FEATURED LABELS: 
Sfumato
https://sfumatozg.bandcamp.com/releases
https://www.facebook.com/SfumatoZG/
https://www.facebook.com/jeboton/

Harvo Jay
https://www.facebook.com/harvojay/
https://harvojay.bandcamp.com/
NLV
https://www.facebook.com/NLVofficial/
https://nlvofficial.bandcamp.com/
Para Lele
https://www.facebook.com/paraleleband/
https://paralele.bandcamp.com/
Pastele
https://pastele.bandcamp.com/releases
Plastic Knives
https://plasticknives.bandcamp.com/
https://www.facebook.com/plasticknivessuck/

PLAYLIST:
    1. Sfumato – Boja kao situacija (Walhali, 2018, self-released)
    2. Harvo Jay – Zapad (Sok od agonije, 2017, self-released)
    3. NLV – Bitter (NLV, 2016, self-released)
    4. Pastele – The Magic Mountain (The shape of lounge to come, 2019, self-released)
    5. Para Lele – Ptica Selica (Para Lele, 2017, self-released)
    6. Plastic Knives – Future ex (Tongue in cheek, 2017, self-released)
    7. Plastic Knives . Tongue in cheek (Tongue in cheek, 2017, self-released)

RADIO (HYPERLINK) & COUNTRY: Radio Student (http://www.radiostudent.hr/), Zagreb, Croatia
Prepared and engineered by Ivan Vlašić and Matija Trupinović
Announced by Ivan Kolar
Interview by Vigor Vukotić
 
preview
NLV, Pastele, Para Lele, Nemanja, Harvo Jay, Sfumato, Plastic Knives