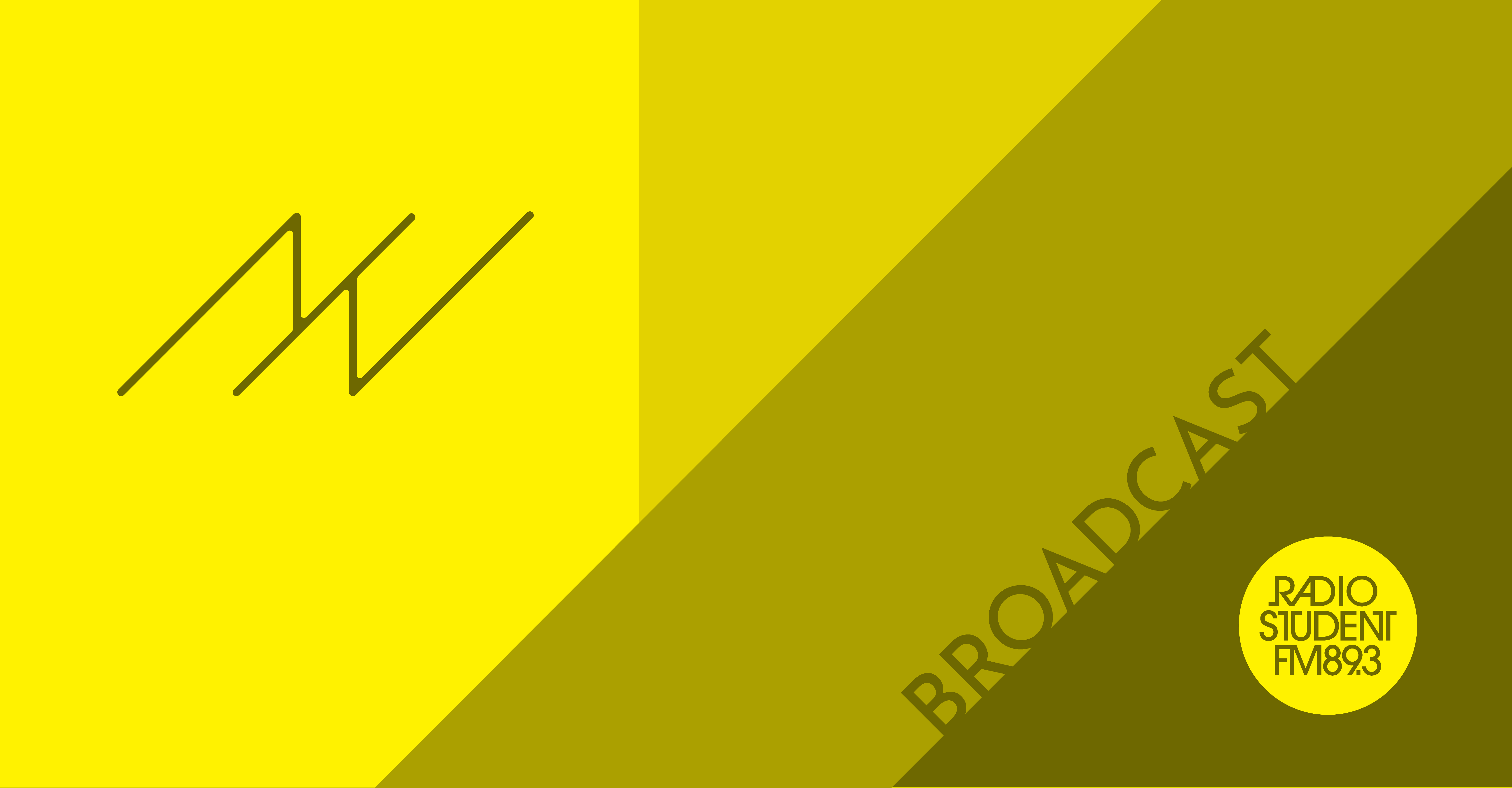 We spoke to Nina Dragičević, an activist and sound artist and to Tit, the head of a small, but resonating record label ŠOP Records. We listened to rouge-ah, an experimental harpist and also to a punk solo-effort Rush To Relax. We conclude the show by listening to Lifecutter, an experimental techno producer.
In edition number twelve - Špela and Dušan from Radio Študent in Ljubljana, Slovenia will introduce the listeners to Nina Dragičević, rouge-ah, Rush To Relax, ŠOP Records and Lifecutter.
Nina Dragičević, the first interviewee of the show, turns on its head the saying jack of all trades, master of none. She peculiarly mastered the questioning of sound and words, meaning and possibillities through her work as a composer, sound artist and writer. Starting as a classicaly trained violinist, she then explored, what might seem at a glance, the furthest from classical music, electro-acoustic compositions and sound instalations, which centre experiential and activist approach to unheard or lesser heard sounds, and the stories to which they are connected. On Radio Študent she hosts the Famous Unknows radio show, takes care of artistic direction of the festival Topographies of Sound, has issued multiple albums and written several books. 
Another musician on the always bubbling slovenian sound exploration scene is rouge-ah, an experimental harpist, who presented her debut album bare on Kamizdat in late 2018. On it she weaves the sounds of an acoustical and electrical harp, that are then coupled with numerous effects and pedals. Her album reflects her own emotional and mood snippets, which she has also explored in a performance dance piece called Razgaljeno, that further solidified the physical approach in her music making. 
We listen to a one-man bedroom punk project Rush To Relax. Behind the alias is Damjan Manevski, a guitarist, multiinstrumentalist, a host of a D.I.Y. oriented radio show at Radio Študent, and also his music is very much created in a do-it-yourself fashion. Based in Slovenia, he hails from Macedonia, another regional powerhouse of good alternative music and he sings in his native language. His self-titled debut EP was released digitally and on tape with Look Back And Laugh, another small slovenian record label, dedicated to punk, noise, D.I.Y., and other alternative artistic approaches. Rush To Relax takes us on a journey through really well written, catchy songs, melodic approaches that never seem to bore us and lyrics that show Damjan's personal views, experiences and stories.
We spoke to Tit, the head of ŠOP Records. If you paid good attention to previous RadioMuse episodes hosted by Radio Študent from Ljubljana, Slovenia, you most certainly heard about this bedroom record label which releases music of differently profiled musicians, ranging from complete enigmas to well known faces of the slovenian alternative. Their roster and discography is growing quite fast, they released 13 albums this year alone and on their journey they went from being there for artists to promote their music to being as open as ever and also one of the more prolific record labels on the slovenian scene. We listened to recent releases on the label by M O R V E R N, a solo psychedelic dream rock project and lulica, an ambient and noise oriented endeavour.
The final feature of this week's RadioMuse programme is Lifecutter. Domen Učakar hails from the Zasavje region of Slovenia which is majorly connected and associated with having a rich history of mining, and with it's hilly environment it could not be a better source for dark, noisey, industrial, bumping techno that radiates out of Lifecutter's productions. He is a well known face on the slovenian electronic music scene, a member of a noise project Ontervjabbit and has released critically acclaimed albums on the Kamizdat record label which we already featured in one of our previous shows. His most recent release Rapture EP came with the Berlin based label Holotone.
FEATURED ARTISTS/PRODUCERS (WITH LABELS) OR FEATURED LABELS:
Nina Dragičević
http://ninadragicevic.com/ 
https://kamizdat.bandcamp.com/album/maam-there-is-no-such-thing-in-reality-gospa-tega-v-realnosti-ni 
info@ninadragicevic.com

rouge-ah
https://rouge-ah.bandcamp.com/ 
https://www.facebook.com/urskapreis/ 
http://kamizdat.si/ 

Rush To Relax
https://rushtorelax.bandcamp.com/ 
https://hahahahahahahahahahahahahaha.com/ 

ŠOP Records
https://sop-records.org/ 
https://soprecords.bandcamp.com/ 
https://www.facebook.com/sopdiler/ 
diler@sop-records.org

M O R V E R N
https://morvern.bandcamp.com/ 
https://www.facebook.com/M-O-R-V-E-R-N-1700457473560326/ 

lulica
https://soprecords.bandcamp.com/album/brusnica 
https://soundcloud.com/lulicamusic 
https://www.facebook.com/lulicamusic/ 

Lifecutter
https://lifecutter.bandcamp.com/ 
https://www.facebook.com/lifecuttermusic/ 
https://holotone.bandcamp.com/album/htndig001-rapture-ep 
RADIO (HYPERLINK) & COUNTRY:
Radio Študent (www.radiostudent.si), Slovenija
NAMES OF THE JOURNALISTS/TECHNICIANS/ANNOUNCERS WHO PRODUCED THE SHOW:

prepared by Špela Cvetko, Dušan Bulajić; 
sound mixing by Jure Anžiček; 
featured songs mixed by Jure Anžiček; 
announced by Špela Cvetko, Dušan Bulajić
FULL PLAYLIST / ARTIST – SONG (Album/Release Title, Label, Year):
01 Nina Dragičević - Ma'am there is no such thing as reality (album Ma'am, there is no such thing in reality / Gospa, tega v realnosti ni, Kamizdat, 2019)
02 rouge-ah - don't tell me what i like (album bare, Kamizdat, 2018)
03 Rush To Relax - Nova vežbalna (album Rush To Relax, Look Back And Laugh, 2019)
04 Rush To Relax - Bez Oset (album Rush To Relax, Look Back And Laugh, 2019)
05 M O R V E R N - Long Lost Friend (album Intentalo de Nuevo, ŠOP Records, 2019)
06 lulica - nota (album brusnica, ŠOP Records, 2019)
07 lulica - odrešitev (album brusnica, ŠOP Records, 2019)
08 lulica - 1 minute city (album brusnica, ŠOP Records, 2019)
09 Lifecutter - Tearing Down Walls Anxiety (EP Rapture, Holotone, 2019)
preview
Nina Dragičević, rouge-ah, Rush To Relax, ŠOP Records and Lifecutter