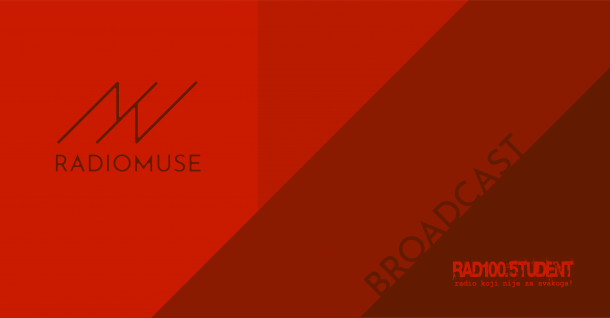 This week, Radio Student Zagreb brings you a small selection of what the Croatian underground scene offers. As a special feature we spoke to Elvis and Naranča from the band ESC life to give us an insight to the situation with the record labels and financing albums. We also spoke with Roko Crnić, a singer from the band Porto Morto, who told us about their unique sound and on-stage visuals. We also presented rock bands Them Moose Rush, From Another Mother, solo artists Mary May and  Nemanja. We also present the new project from the acclaimed artist Irena Žilić, an electro and dream pop duo Porto Mortoe.
-----------------------------------
The forth show of the cooperative program called Radio Muse is prepared by Radio Student Zagreb. In our effort to hand pick independent artist signed and unsigned we bring you a selection of different but very intriguing musical pieces. Our goal for this show but also as an independent radio in general is and always will be to promote and give airplay to artists (be it musical or otherwise) who don't find their place in mainstream media. With that on one side while quality and musical relevance on the other, this week we bring you:
Mary May, the newest name on the Croatian singer-songwriter scene. Coming from Split, she quickly gained popularity after releasing her fist single Softest tune. It was a great introduction to her full length album Things you can't put your finger on. Her music is described as a combination of Americana, folk and blues, resembling artists like Kurt Ville, Hozier, and Norah Jones. 
The first of our feature interviews for this show is Esc Life, melodic indie punk rockers. Heavily influenced by classic punk and 90's indie music such as Sebadoh and Husker Du they've released 2 full length albums Access all Areas and Born To Be Mild and a double A side vinyl single with the Austrian band Remedy. In 2014 they played as an opening act and the backing band for the late Grant Hart from Husker Du which the band remembers as a coming of age experience that gave them the momentum to record their first album. Half of the band, Elvis and Naranča joined us in the studio. 
Nemanja is a solo project by the Pula-based artist Luka Šipetić, former guitarist for the very popular Croatian bend NLV. Under the name Nemanja, he released two albums, self-titled album in 2015 and Tarot Funk in 2019. The latter became an instant hit, and a true summertime treat.
Another special feature of this show is Porto Morto, a most prominent bend that came out of the collective called Jeboton as well as the Croatian music scene in general, formed in Zagreb around 2010. The collective itself was a group of artists with similar musical taste and ambitions. Porto Morto, founded in 2011, gained wide critical acclaim after releasing their second album Portofon in March 2019. Their sound is hard to put into words, mostly consisting of catchy dance-like rythms, catchy tunes, and a lot of instruments not typical for a traditional rock band, such as trumpet, trombone and a saxophone, alongside electronic components. Beside a very specific sound, they are well-known for their distinct visuals, used both in music videos and live shows, of which the most prominent element is wearing model houses as masked while performing. Roko Crnić, singer and bass player from the band joined us in the studio. 
From another mother is a prog rock and fusion band, formed in Zagreb in 2012. Since then they have released two full length albums - Epileptir and Atatoa. Even though just a three piece bend, their live sound is heavy, chaotic and hectic. Their second album was released for the German label Lingua Nada. 
Neon wife is fresh name on the Croatian music scene. It is a duo consisting of Irena Žilić and Lucija Potočnik. In May 2019 they released their first single Back row from their first upcoming EP – My, oh my will be published in autumn 2019. However, they are not unknown on the music scene. As a part of Irena Žilić band the duo toured the UK with Morcheeba. Their style is a mixture of electro pop and dream pop. 
Them Moose Rush is a progressive rock trio from Bjelovar, Croatia. They describe themselves as an unstoppable progressive rock machine. Their latest album Don't pick your noise gained critical acclaim and recognition from major magazines such as Prog magazine, Metal injection, Everything is noise and others. They are combining retro with modern, recording albums live and bursting with crazy jams.  Them Moose Rush is a genuine riff machine constantly pushing forward and reinventing  perception of a standard rock and roll trio.
FEATURED ARTISTS/PRODUCERS: 
MARY MAY
https://www.facebook.com/MaryLovesYouMusic/
https://www.youtube.com/watch?v=WaVn9qQ8gmg
https://marymay-yay.bandcamp.com/album/things-you-cant-put-your-finger-on
ECS LIFE 
https://www.facebook.com/esclifetheband/
https://www.facebook.com/PDVRecordLabel/
NEMANJA
https://www.youtube.com/watch?v=sQknxeVFnsw
PORTO MORTO 
https://www.facebook.com/PortoMortoZG/
https://www.youtube.com/watch?v=ouC0LXvmLWs
https://porto-morto.bandcamp.com/
https://www.facebook.com/jeboton/
FROM  ANOTHER MOTHER
https://www.facebook.com/fromanadamada/
https://www.youtube.com/watch?v=6BvsHcazaXg
https://fromanothermother.bandcamp.com/
https://linguanada.bandcamp.com/music
NEON WIFE
https://www.facebook.com/neonwife/
https://neonwife.bandcamp.com/releases
THEM MOOSE RUSH
https://themmooserush.bandcamp.com/
https://www.facebook.com/themmooserush/
PLAYLIST:
Mary May – Just Fine (Things you can't put your finger on, self-released, 2018)
ESC Life – Song of the Weak ( Born to be mild, PDV records, 2019)
Nemanja - The World (Tarot funk, self-released, 2019)
Porto Morto – Hodaj feat. Darko Rundek (Portofon, Jeboton, 2019)
From another mother – Free hugs (Epileptir, self-released, 2017)
Neon Wife – Back Row (single, self-realeased, 2019) 
Them Moose Rush – Voodoo Stones (Don't pick your noise, self-released, 2018)
Them Moose Rush – Lethat Dose of Pretty (Don't pick your noise, self-released 2018)
Produced by: Radio Student, Zagreb, Croatia
Prepared, announced, engineered and mixed by Vigor Vukotić and Ivan Kolar.
preview
ESC life, Porto Morto, Them Moose Rush, From Another Mother, Mary May, Nemanja, Neon Wife