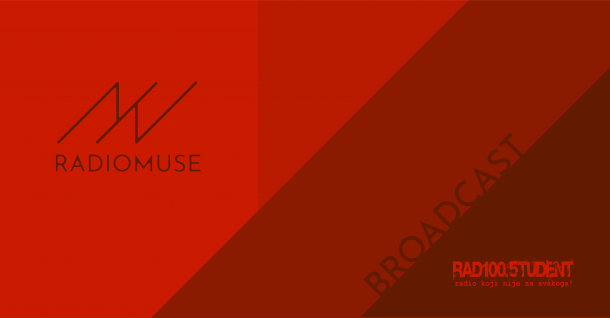 This week, Radio Student Zagreb brings you a small selection of what the Croatian underground scene offers. As a special feature we spoke to Ivan Čadež from the band Šumovi Protiv Valova to give us an insight to their perculiar view of music in general. Also we presented the macho emo pop of Svemirko, dark electronic of Side Project, lo fi dirty folk from Denis Katanec and the post rockers Tús Nua.
-------------------------------
The second show of the cooperative program called Radio Muse is prepared by Radio Student Zagreb. In our effort to hand pick independent artist signed and unsigned we bring you a selection of different but very intriguing musical pieces. Our goal for this show but also as an independent radio in general is and always will be to promote and give airplay to artists (be it musical or otherwise) who don't find their place in mainstream media. With that on one side while quality and musical relevance on the other, this week we bring you:
Svemirko, a macho-emo-pop band from Đakovo. Roughly translated as "Little space man", they formed in 2017, and till now they've published two full lenght albums Vanilija and Tunguzija. The band is lead by Marko Vuković and he also runs his own label (mostly internet label) called Više-manje zauvijek. Although the mainstream avoids them completely, it didn't stop the band in creating a cult following and selling out venues in the countries of former Yugoslavia.
For our special feature of this week's show we spoke to Ivan Čadež, the bass player from the experimental band Šumovi Protiv Valova. They are a band that spent the last 8 years promoting the album that they released in 2019. Their philosophy is simple and completely analog. They wanted to produce a record like a photographer makes a photograph. Play it altogether and record it on analog machines with almost to no tweaking afterwards – to have a simple "negative". Their music is instrumental and makes the listener jump into their world.
Klinika Denisa Kataneca is a psychedelic folk lo fi rock band from Zagreb. Denis Katanec is the singer/songwriter over whom the project bears its name. Very emotional and introspective but also maintaining that dirty rundown sound with shaky vocals. They have one album and an EP behind them, and currently they are working on new material.
Tús Nua came as refreshing surprise when they came about in late 2017. Their first and only album named Horizons even gained attention in the USA, Seattle's radio KEXP named their song FIGHT! Song of the day and Seattle based label Weltraum-Wal released their album on cassette tape. Their music is a mixture of atmospheric post rock and shoegaze.
The final artist we included in this show is Side Project, a two-piece band from Zagreb often joined on-stage by backing band. Their sound is dark and electronic, high on the 80's, while live they sound like a full rock band.
SVEMIRKO
https://www.facebook.com/svemirkosvemirko/
https://www.youtube.com/watch?v=4GfLhRS4geM
https://jasamsvemirko.bandcamp.com/
https://www.facebook.com/visemanjezauvijek/
ŠUMOVI PROTIV VALOVA
https://www.facebook.com/sumoviprotivvalova/
https://www.youtube.com/watch?v=pV4OnItzBh0&t=162s
https://pdvrecords.bandcamp.com/album/umovi-protiv-valova
https://www.facebook.com/PDVRecordLabel/
KLINIKA DENISA KATANECA
https://www.facebook.com/klinikadenisakataneca/
https://www.youtube.com/watch?v=rxtZp0Pug-k
https://deniskatanec.bandcamp.com/album/rode
TUS NUA
https://www.facebook.com/tusnuaofficial/
https://www.youtube.com/watch?v=lhxnPLw7mGQ
https://tus-nua.bandcamp.com/
SIDE PROJECT
https://www.facebook.com/sideprojecthr/
https://www.youtube.com/channel/UCBH2a1wEAuBclNRZQetKY5Q
https://sideprojecthr.bandcamp.com/
PLAYLIST:
Svemirko – Tajne Svemira (Vanilija, Više manje zauvijek, 2017)
Šumovi Protiv Valova – Pulsacije (Self-titled, PDV records, 2019)
Šumovi Protiv Valova – Košmar (Self-titled, PDV records, 2019)
Klinika Denisa Kataneca – Klinika (Rode EP, self-released, 2019)
Tús Nua – There's a Thin Line Between Everything (Horizons, self-released, 2017)
Side Project – Would You ft. Irena Žilić (Lonely Boys, self-released, 2017)
Radio Student ( http://www.radiostudent.hr/ ), Zagreb, Croatia
Prepared, announced, engineered and mixed by Vigor Vukotić and Ivan Kolar
preview
Šumovi Protiv Valova, Svemirko, Side Project, Denis Katanec, Tús Nua