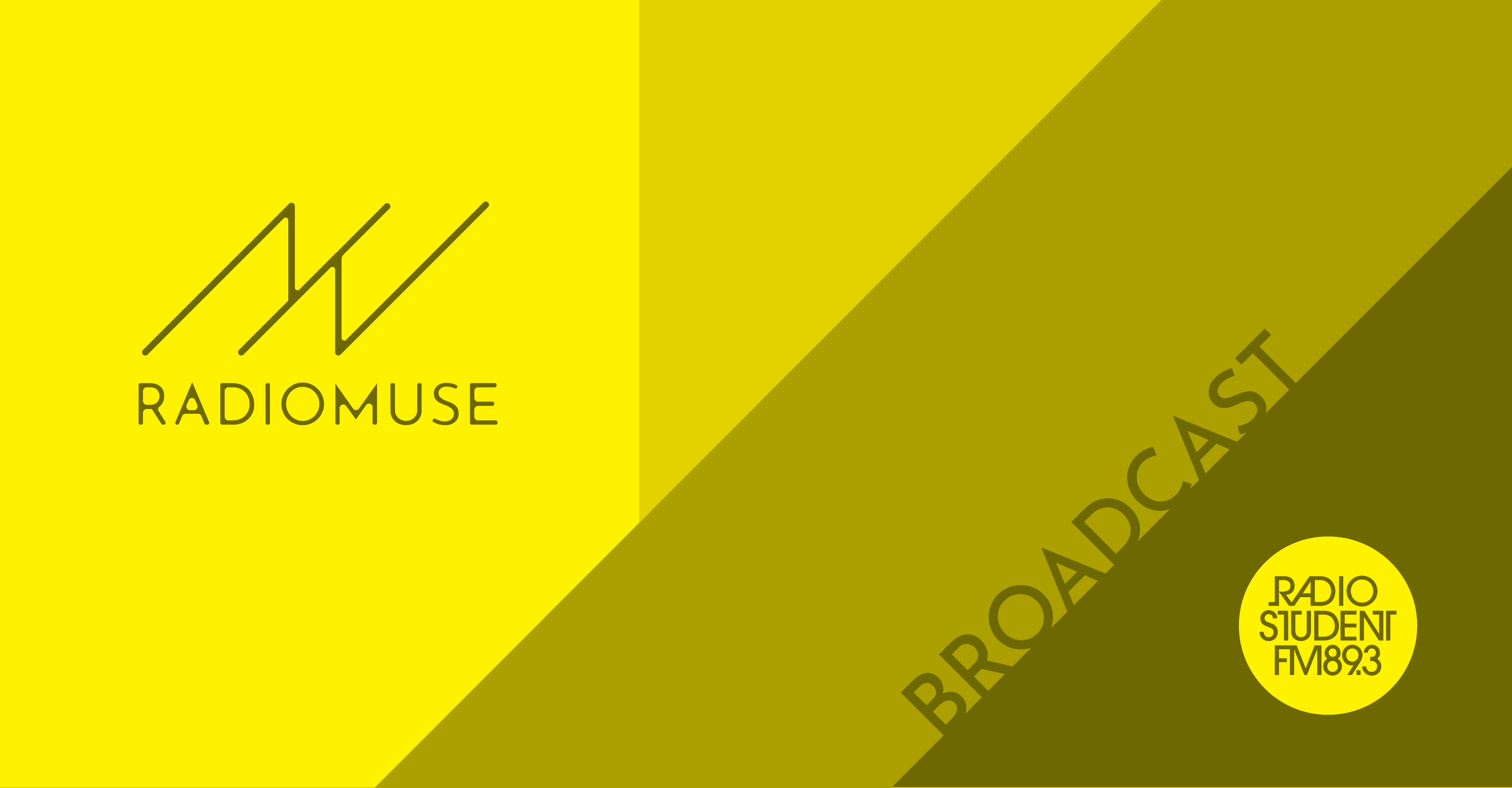 Radio Študent from Ljubljana, Slovenija presenting local music, artists and record labels. In it's first time for Radiomuse showcasing the net label Kamizdat, interviewing it's head Luka Prinčič and playing the labels album from the electronic music duo Warrego Valles, presenting the turntablism live percussion trio Jimmy Barka experience, talking to their DJ Borka, and playing the shoegaze of Haiku Garden alongside the border crossing nasty rap and electronics of Darla Smoking and Well Gedacht.
---------------------------
For our first time in the Radiomuse project our label focus is on the so-called net label Kamizdat, a label committed to publishing underground electronic and electroacoustic music of various genres. We talked with the label's main man Luka Prinčič, played one of his own ambient tracks from the self-released record Of Judy Stroat published in 2019 and we also played music by the abstract but rhythmical underground electronic duo Warrego Valles from their 2019 album save as published by Kamizdat.
We also talked to Borja Močnik aka DJ Borka, one-piece of the three-piece band Jimmy Barka Experience, whose EP Three Piece Puzzle for the Slovenian electronic music and beats label rx:tx is out in 2019. And, of course, we played some of their music, which brings together two experts, maestro DJs Borka and Bakto in a game of live turntablism – scratching, playing with samples – and the virtuoso drummer Marjan Stanić.
Haiku Garden is a four-member shoegaze band from Ljubljana. They've been active on the Slovenian music scene since 2015, when they were selected by Radio Študent to be a part of Klubski maraton – a radio project highlighting unknown young artist – and a tour of local Slovenian music venues. In October of 2018 they released the album Where If Not Nowwith which they've played international shows ranging from Spain to the deeper Balkans. The album was released by the local label KAPA Records, and we played a few songs from their long play.
Last but not least for this time was the project Pass The Bless headlined by the Slovenian electronics and percussion duo Darla Smoking in an international collaboration with artists surrounding the Vienna, Austria, based label Well Gedacht that presents artists from the Middle East and Europe. A projects of bouncy and harsh industrial beats, analog gear and MCs from Turkey, Palestine and Iran going off in their native languages.
Kamizdat (label)
http://kamizdat.si/
https://kamizdat.bandcamp.com/
https://www.facebook.com/kamizdat/
Luka Prinčič
https://lukaprincic.si/
https://music.lukaprincic.si/
https://music.lukaprincic.si/album/of-judy-stroat
Warrego Valles
https://warregovalles.bandcamp.com/
http://kamizdat.si/artist/warrego-valles/
https://www.facebook.com/warregovalles/
https://soundcloud.com/warregovalles
Jimmy Barka Experience
https://www.facebook.com/jimmybarkaexperience/
https://rx-tx.org/album/three-piece-puzzle
https://soundcloud.com/jimmy-barka-experience
Haiku Garden
https://www.facebook.com/HaikuGardenBand
https://kaparecords.com/artist/haiku-garden/
https://kaparecords.bandcamp.com/album/where-if-not-now-2
Pass The Bless
https://darlasmoking.bandcamp.com/album/pass-the-bless
https://www.facebook.com/DarlaSmoking/
https://darlasmoking.bandcamp.com/
https://soundcloud.com/darlasmoking
https://www.facebook.com/st0rmtrap
https://www.facebook.com/ethniquepunch/
https://www.facebook.com/wellgedacht/
PLAYLIST:
01 Luka Prinčič - Swallows (album Of Judy Stroat; selfreleased, 2019)
02 Warrego Valles - postcell (album save as; Kamizdat, 2019)
03 Haiku Garden - Rosetta (album Where If Not Now; KAPA Records, 2019)
04 Haiku Garden - Catch My Breath (album Where If Not Now; KAPA Records, 2019)
05 Jimmy Barka Experience - The Alliance Of The Unaligned (EP Three Piece Puzzle; rx:tx, 2019)
06 Jimmy Barka Experience - Raspberry Punch (EP Three Piece Puzzle; rx:tx, 2019)
07 Darla Smoking - Propaganda (feat. StormTrap Asifeh & Ethnique Punch & Levni) (album Pass The Bless; Well Gedacht, 2019)
08 Darla Smoking - Jar Bottom Globe Wise (feat. StormTrap Asifeh & Ethnique Punch) (album Pass The Bless; Well Gedacht, 2019)
Radio Študent ( www.radiostudent.si), Ljubljana, Slovenija
prepared by Andrej Pervanje, Dušan Bulajić; sound mixing by Jure Anžiček; announced by Andrej Pervanje, Dušan Bulajić